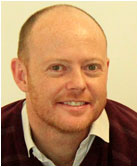 Director

Making companies 'sit up and listen' to more sustainable means of conducting business stands at the core of my values. Knowing that I've made a difference makes me happy, but encouraging change and innovation makes me ecstatic. I studied Estates Management and went onto complete a Master of Research course in the Built Environment in 1995.
I've been involved in the low carbon sector for 18 years with a particular focus on sustainable wastes management. During this time, I have seen the green economy flourish – doing something positive for the environment while also allowing industry and commerce to prosper. This laid the foundations for where I am at now…having spent 13 years of my career in consultancy; I have conducted a number of strategic pieces of research which have in due course informed policy. I have conducted over 30 resource management feasibility studies and options appraisals across the UK, including Scotland, Ireland and Wales.
Between 2009 and 2011, I managed a £9 million ERDF resource efficiency programme, enhancing the region's move to a low carbon economy through stimulating product development and investment support to SMEs. I have performed due diligence on low carbon product investments (business plan reviews, cash flow projections, proof of concept and proof of market) assessing whether the proposition 'has legs'. My previous clients include Defra, WRAP, Yorkshire Forward, Greater Manchester Waste Disposal Authority, Westminster City Council, Yorwaste, Global Renewables, ASDA, HMV and countless SMEs.